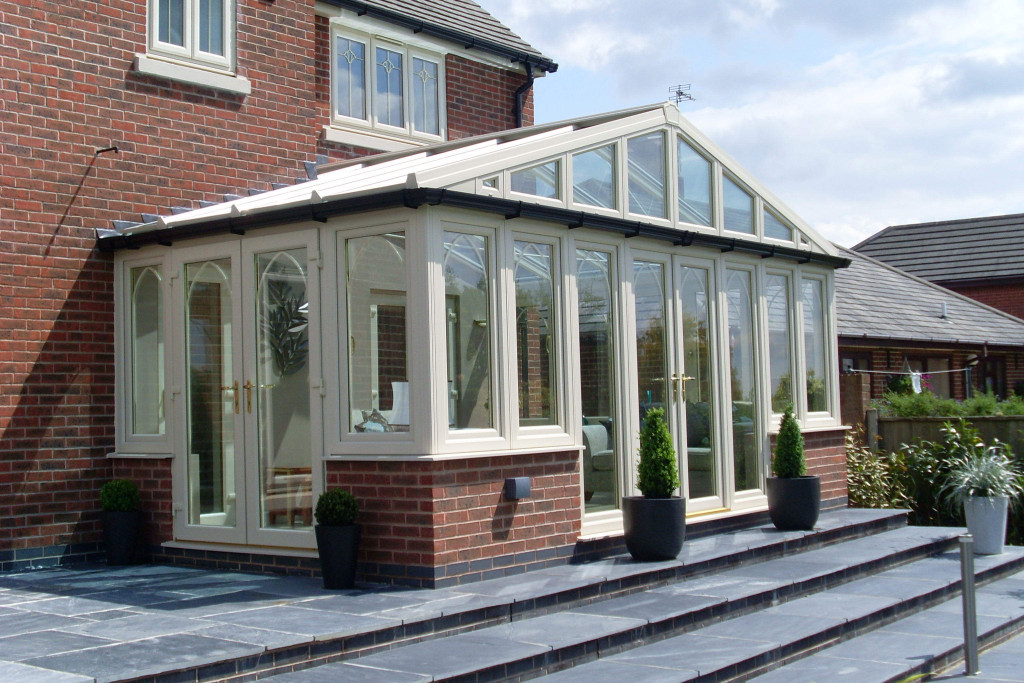 A conservatory has the ability to completely transform the way your Southampton home looks, and what it can offer. Bringing with it increased living space, thermal efficiency, enhanced aesthetic and outstanding weatherproofing, a conservatory from Pure Trade Windows will ensure complete satisfaction, every time.
Matching the diversity of Southampton homeowners and Southampton homes, our conservatories come in a range of styles and designs: Including the Victorian Conservatory, Edwardian Conservatory, Gable Conservatory, Lean-To Conservatory and Bespoke Conservatory.
Exceptional Conservatory Design
Every conservatory we offer features the market-leading uPVC profile from Liniar, which completely sets the standard for performance and aesthetic in the uPVC sector. Standing as the only uPVC profile to have been designed in the 21st century, it enables our conservatories to not only achieve modern standards of quality, it also allows them to overcome age-old problems that have affected uPVC performance for years.
uPVC superiority is guaranteed by the Liniar profile, which combines a multi-chambered design, continuous gaskets and integrated reinforcement to ensure unbeatable levels of security, thermal efficiency and weatherproofing. The Liniar uPVC profile ensures that your Southampton home benefits from all that comes from choosing the best.
Thermally Efficient Conservatory in Southampton
Extending your Southampton home need not bring with it draughts and reduced thermal efficiency, and with Pure Trade Windows, we guarantee it won't. Not only do we install to the highest standards of craftsmanship, but your Southampton property will greatly benefit from the thermal efficiency of the Liniar profile.
The Liniar profile features size-optimised chambers that break up mini-convection currents and trap in pockets of warm air. This means that when you put the heating on in your Southampton home, you'll not only be able to feel it more, but  it will stay in your property for a longer period of time. This also means that you'll have to put the heating on less, and will therefore save you money on your heating bills.
The Liniar profile then combines a thermal dam and a unique 'glazing flipper' gasket to reduce cold transfer, heat transfer, water ingress and noise pollution. Outfit your home with complete protection against the elements, and unwanted noise with a high quality conservatory from Pure Trade Windows.
Economically Friendly Construction
Our range only contains materials that are 100% lead free, 100% recyclable and perform to a standard of thermal efficiency that notably reduces the amount of energy you use, and consequently will reduce the carbon footprint of your Southampton property.
Using lead during construction can be costly to both your health and the environment. The dangers of lead have been well-researched, and here at Pure Trade Windows we are extremely proud to supply one of the few designs that is completely lead free across the board.
Using integrated reinforcement throughout our conservatories ensures a high standard of inherent strength and natural robustness, which therefore eliminates the need for costly steel reinforcement. This not only reduces overall cost; it also means they are much better for the environment. At Pure Trade Windows, you can get the best without the high price-tag.
Conservatory Range
In order to ensure a conservatory from us is the perfect fit for your Southampton home, we offer a range of designs that can accommodate all tastes and preferences.
Victorian Conservatory
The Victorian design features a beautiful three or five facet bay design which projects outwards to allow for excellent, surrounding views of your garden. This design also enhances natural light allowance, and means you can enjoy the warmth of the sun even on those chilly spring and autumn days.
We understand that Southampton holds a wide variety of property styles, and the reason the Victorian style has proved so popular is that fact that it is incredibly versatile, and can be fitted to both modern and traditional homes. All Southampton homeowners can benefit from a beautiful Victorian Conservatory from Pure Trade Windows.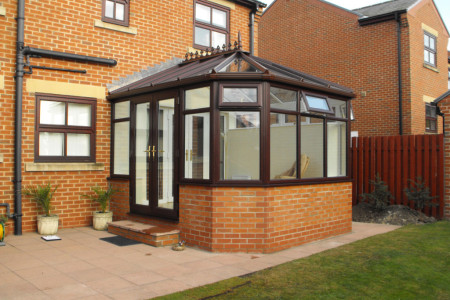 Edwardian Conservatory
Although this conservatory design sits very firmly in the traditional vein of the Victorian aesthetic, it instead consists of a rectangular or square design that is surprisingly understated yet sophisticated. This design maximises space, and allows for a more conventional living area.
The design of the Edwardian conservatory allows for a universal standard of satisfaction, and will fit seamlessly into any and all Southampton properties. With the Edwardian design, you'll be able to enjoy more from a minimalist style.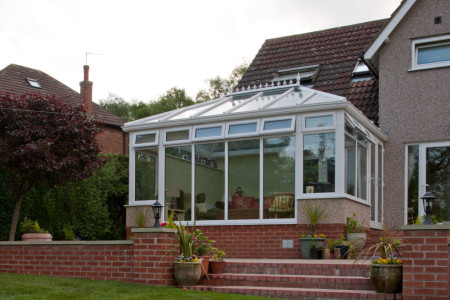 Gable Conservatory
The Gable design effortlessly maximises light allowance and space with its 'rising sun', high roof design. This roof design features windows that are fitted all the way to the roof, which results in a spacious and comfortable feel, which gives the illusion of an open-air home extension. Bring a sense of grandeur to your home with a gable conservatory.
Installing a gable conservatory into your Southampton home is a beautiful way to bring a stately aesthetic to your home that will impress your neighbours, and fit seamlessly into your property style.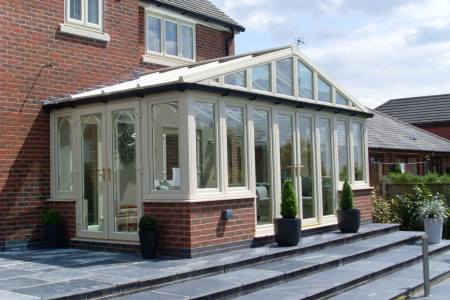 Lean-To Conservatory
Choosing the lean-to design for your Southampton home is a great way to save money without compromising on performance or aesthetic. This simple, versatile style will bring a myriad of benefits for any property, and will bring satisfaction across the board.
Due to the low pitched roof that is present in the lean-to design, this conservatory can be adjusted to fit into a wide variety of spaces that other conservatories may not be able to. This includes awkward, small or restricted building areas. This means that the lean-to conservatory will work for you, not the other way around.
Otherwise known as a 'Mediterranean Sun Room', the lean-to is the perfect choice for any contemporary home, but can also bring a beautifully cultural flair to period properties as well.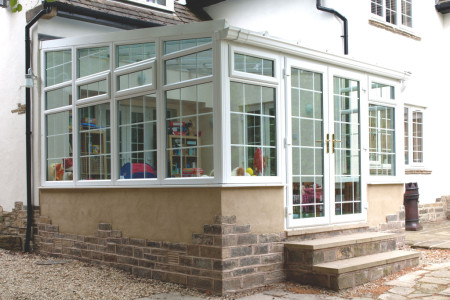 Bespoke Conservatory
Offering double the living space for your Southampton property, Bespoke conservatories combines the styles of the lean-to and the Victorian style to achieve a design that utilises the best of both. This greatly enhances the versatility of your Southampton home, and allows you to combine function rooms with living rooms, or leisure rooms with social areas. With Pure Trade Windows, the choice is yours.
Due to the fact that the Bespoke design in inherently larger in size, it's best suited to larger Southampton homes. However, this isn't to say that if you have a smaller Southampton home that you'll be missing out, the bespoke conservatory can be expertly fitted to a wide range of Southampton properties.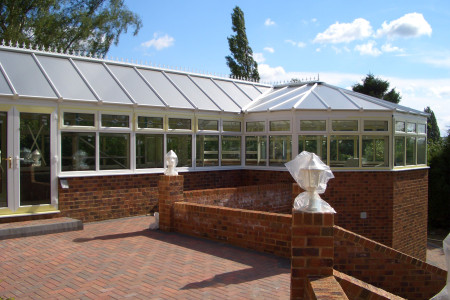 Conservatory Prices
Has one of the options from our beautiful conservatory range taken your fancy? By getting a free, online quote from us today, you'll be able to take advantage of our wonderfully competitive conservatory prices in the Southampton area.
If you feel you need more information, you can get in touch with us via our online enquiry form, where a member of our friendly team will always be on hand to help with any questions you may have.