Aluminium Residential Doors
Our Aluminium Residential Doors utilise the very best that aluminium has to offer. Enhance your Bournemouth or Ferndown home with the very best in door design, and enjoy an outstanding level of thermal efficiency, security and durability.
Infinitely recyclable, inherently strong, low maintenance, elegant and modern, aluminium has proved itself to be an exceptional material to use when it comes to double glazing. Here at Pure Windows we make full use of these features, and only offer the highest standards available.
Aluminium Residential Doors to Enhance Your Home
Smart Architectural Aluminium
Our Aluminium Residential Doors utilise the market-leading aluminium profile from Smart Architectural Aluminium. Drawing upon 40 years of experience, this profile is high performance by design. You'll be able to enjoy outstanding levels of security, durability and thermal efficiency throughout.
An aluminium residential door from us is sure to act as the perfect focal point for your Bournemouth or Ferndown home. Enjoy the perfect balance between function and form with Pure Windows, and enjoy complete home improvement satisfaction.
Yale
Throughout all of our Aluminium Residential Doors, we install the world-class, unrivalled locking systems from Yale. Ensure the highest standards of security available for your Bournemouth or Ferndown property, today.
When these locking systems are combined with the innate strength and robustness of aluminium, we are able to offer a standard of aluminium door that completely outclasses its contemporaries. The best of the best is well within your reach, with Pure Windows.
Aluminium Door Colours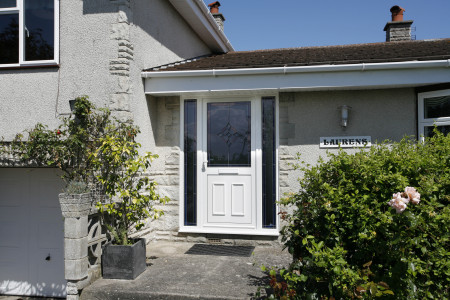 In order to get the perfect aesthetic for your aluminium residential door, we offer a wide range of colours and finishes. You'll able to choose from a comprehensive range RAL of colours, as well as a substantial choice of standard colours.
You'll also be able to take advantage of our dual colour ability, which means you can outfit your aluminium residential door with two colours. This allows you to match the aesthetic of your home interior and exterior respectively, therefore resulting in a completely seamless aesthetic.
Aluminium Residential Door Prices
Interested in our Aluminium Residential Doors? Get in touch with us via our online enquiry form below. A member of our friendly team will be ready to help you with any questions or problems you may have.