Colour Options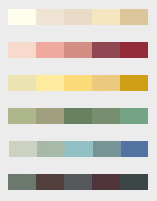 Our Sash Window standard finishes include 'Smooth White', 'White', 'Cream', 'Chartwell Green', 'Irish Oak', 'Golden Oak', 'Cherrywood', 'Grey' and 'Black'.
If your customers are after something more personal, all of our Sash Windows are available for bespoke colouring. To get that authentic look, we have an extensive choice from the RAL colour range, or the entirety of Farrow and Ball's colour range.
Our Sash Windows are also available in smooth and wood grain finishes. With us, our windows will always be able to cater to your customers tastes.

---
Glazing Bar Options
Increase the character and charm of your home, by Customising your sash windows with our glazing bar selection. Inspired by tradition, and improved by modern innovation, our glazing bars are sure to enhance your sliding sash windows.
Astragal Bar
By utilising a 'back-to-back spacer' inside the glass unit, astragal bars are designed to give the effect of individual panes of glass.
The uPVC bar is surface mounted to both of the external faces of the glass unit. This ensures the authentic look, and allows our Sliding Sash Windows to be true to their heritage.
Internal Fret
Much like the astragal bar, the internal fret is used to enhance the traditional sliding sash window appearance.
Unlike the astragal bar, the internal fret is installed within the glass unit. This ensures the appearance but reduces maintenance requirements.
---
Spacer Bar Colours
Our spacer bars are available in 'grey', 'white' and 'black'.
Choosing the right spacer bar colour ensures a consistent aesthetic throughout the whole sash window.
---