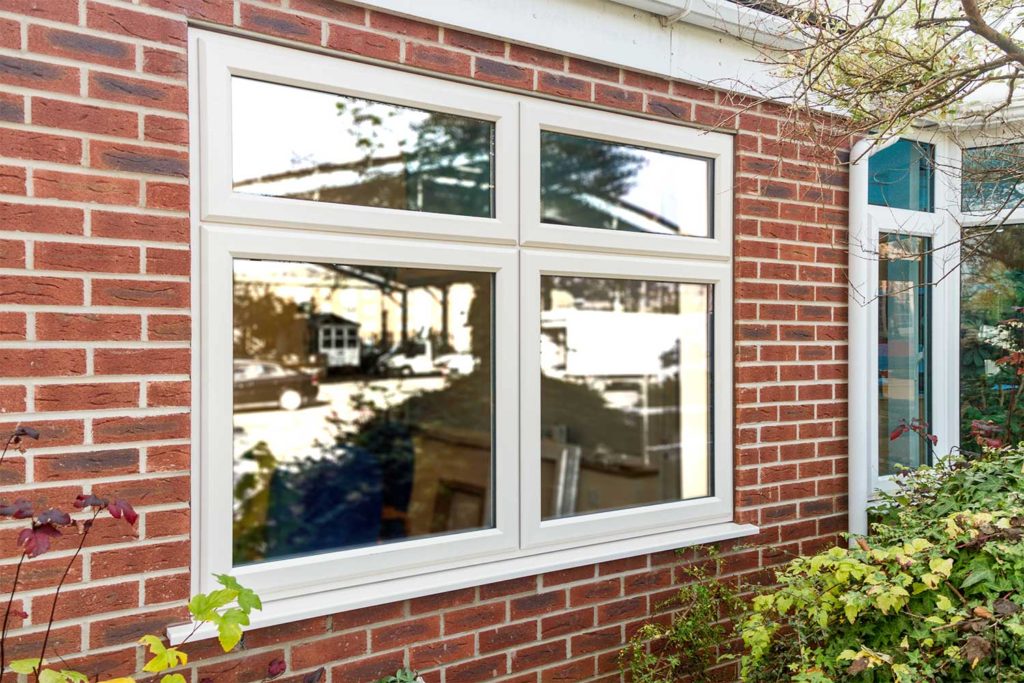 Your final stop for double glazing in Christchurch, Pure Trade Windows offer high quality products that go hand to hand with high quality service. Look no further for double glazed windows, and double glazed doors for your Christchurch property.
All Christchurch homeowners can choose from our entire double glazing range, including: Casement Windows, Tilt and Turn Windows, Sliding Sash Windows, French Casement Windows, Flush Sash Windows, Bay Windows, Front Doors, Back Doors, Stable Doors, Composite Doors, French Doors, Patio Doors and Bi-Fold Doors.
Market-Leading Double Glazing in Christchurch
Our double glazing range benefits from the industry leading uPVC profile from Liniar. This the only uPVC profile to have been designed in the 21st century, and allows all of our double glazing to excel across the board.
With us, you'll be able to enjoy a standard of double glazing that is in keeping with modern standards, and offers innovative solutions to age old problems. This double glazing profile allows us to achieve unbeatable standards of security, thermal efficiency and durability. With Pure Trade Windows, you'll only be feeling the benefits in your Christchurch home.
World Class Double Glazing Security
Double glazing security is ensured by a combination of the high-quality Liniar uPVC profile, and the world-class locking system from Yale. This high security, shootbolt locking system enables the highest standards of home security for your Christchurch property.
The Yale locking system that features in all of our double glazing combines anti-separation 'mushroom' cams and chamfered security shootbolts to achieve a level of security that completely surpasses the quality of its predecessors and contemporaries. Secure your Christchurch home with the best, today.
Thermally Efficient Double Glazing
The Liniar profile allows all of our double glazing to achieve an outstanding level of thermal efficiency thanks to an intelligently designed multi-chamber profile design. These size-optimised chambers work together to break up mini-convection currents, and trap in pockets of warm air.
What does this mean for your Christchurch property? It means that when you turn the heating on during a cold winter's night, your home will not only get warmer, it will stay warmer for longer periods of time.  This will in turn save you money on your heating bills, and reduce your carbon footprint simultaneously. With double glazing from Pure Trade Windows, you'll always enjoy a nice, warm Christchurch home.
Double Glazed Windows
Casement Windows
Casement Windows have proved themselves to be a popular, practical, and simply sophisticated double glazing choice for any Christchurch home. They offer the best standards of security, thermal efficiency and durability whilst keeping an elegant and classy appearance.
To ensure a beautifully classic double glazing look, all casement windows feature a wonderful chamfered rebate. This ensures a crisp, clean look throughout the frame, and allows our casement windows to be a beautiful addition to any Christchurch home.
Our casement windows also utilise durable hardware and hinge protection, which ensures not only product performance, it also ensures product longevity. With Pure Trade Windows, your Christchurch home will always benefit from a worthwhile investment.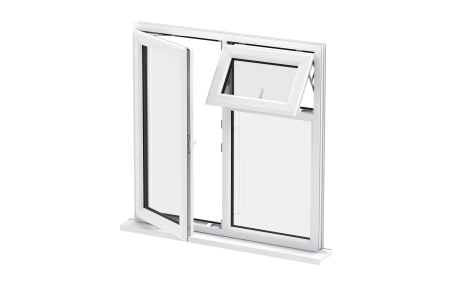 Tilt and Turn Windows
Installing Tilt and Turn windows into your Christchurch property will allow you to enhance the functionality of your property, whilst maintaining the beautiful aesthetic of a casement window. This window brings a harmony between double glazing function and form.
Tilt and Turn windows feature a tilt function that enables lockable ventilation. What this means is that you can open the window whilst maintaining Christchurch home security, as the window stays secure, but tilts open and allows air flow.
Although this may sound complex, all the hardware is wonderfully concealed within the double glazing to ensure a sleek and beautiful aesthetic. Get the best, with Pure Trade Windows.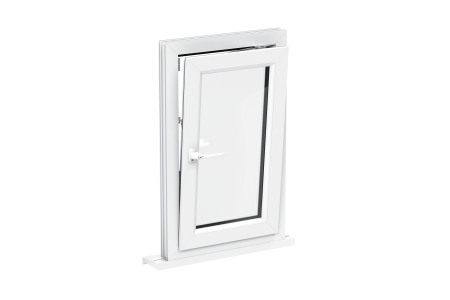 Sliding Sash Windows
Sliding sash windows echo the look of their timber ancestor, but benefit from all the modern benefits of modern double glazing, thanks to their outstanding design. They are a fantastic way to bring a period charm to your Christchurch home, without feeling out-of-date.
Thanks to intelligent double glazing design, all of our sliding sash windows have a tilt function, much like our Tilt and Turn Windows. This not only allows for lockable ventilation; it allows easy cleaning of both sashes. All the benefits, none of the chores with Pure Trade Windows.
To enhance the traditional aesthetic further, all of sash windows also feature a deep bottom rail. This stays loyal to the original timber design, and really exudes a sense of heritage. When combined with our decorative sash horns, you won't be disappointed.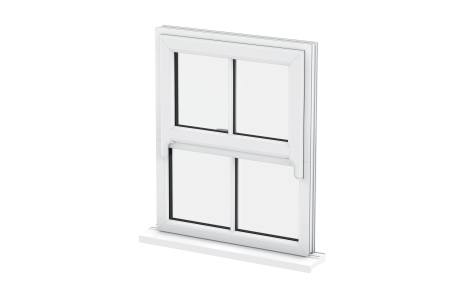 French Casement Windows
French casement windows allow homeowners to bring a taste of French double glazing to their Christchurch neighbourhood. Featuring an innately low maintenance design and easy-clean hinges, our French Casement Windows are a complete a breeze across the board.
Due to a unique double glazing design, French windows carry their mullion upon one of the sashes. This means that you can benefit from a wonderful wide opening, and you won't have any fixtures ruining views. This also means that they can be used as a fire exit in all habitable rooms.
All of our French windows are manufactured using 100% lead free and fully recyclable materials. Eco-friendly, practical and beautiful double glazing, what's not to love?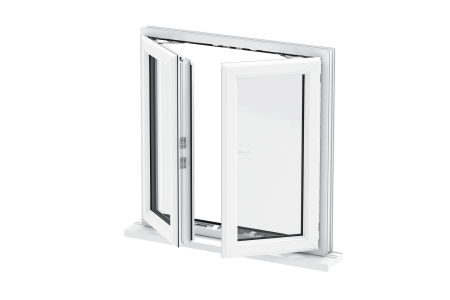 Flush Sash Windows
Flush sash windows are a beautiful double glazing option that allows you to enjoy all the benefits of a casement window, whilst enjoying the double glazing harmony between a timber aesthetic and uPVC performance. This double glazing design is sure to enhance your Christchurch home, and all for the best.
Offering a large range of double glazing customisation options, flush sash windows can truly be an extension of your tastes. We offer options such as monkey tail handles, dummy stays or contemporary style handles. The choice is yours, with Pure Trade Windows.
A continuous seal gasket allows all of our flush sash windows to achieve an outstanding level of double glazing weather protection. This modern benefit will keep draughts and water ingress away from your Christchurch home, and ensure comfort at all times.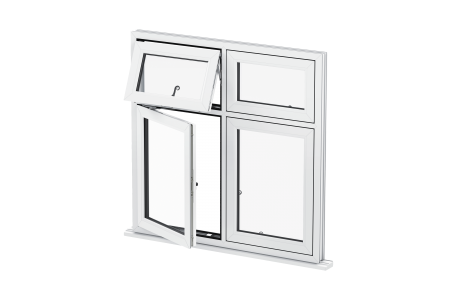 Bay Windows
Bay Windows are sure to bring a sense of double glazing grandeur to your property, with their impressive and large design. This also allows for enhanced views and increased natural light allowance, simply put, our double glazing allows you to enjoy more.
To ensure enjoyment all year round, our Bay Windows feature interior and exterior join couplings to help prevent dust traps from forming. This means that you'll enjoy all the benefits of what bay windows can offer, without any of the upkeep headaches.
Bay windows also add great value to your home by increasing a wonderful sense of height and space. This means that the benefits of bay windows stretch way beyond their aesthetic, and will prove themselves to be a fantastic addition to your Christchurch home.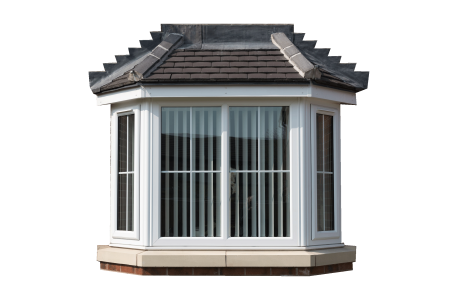 Double Glazed Doors
Front Doors
A high-quality front door not only acts as a fantastic focal point for your home, it also dictates how welcoming your Christchurch property can be. We offer low thresholds for all our front doors, which means that they combine the performance of our double glazing with maximum accessibility.
Featuring double rebates, and Yale locking systems, our front doors will protect you from both crime and the weather. Protect yourself across the board, with a front door from Pure Trade Windows.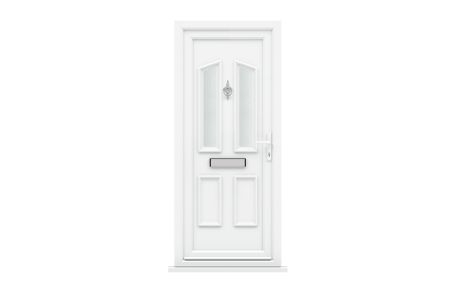 Back Doors
Back doors have to be reliable, useful and simultaneously fit in with your Christchurch home aesthetic. Combined with Yale locking systems and superior weather gaskets, we can assure you our back doors will give you peace of mind.
Always there for you when you need it, a back door from us can be fitted with a panic door system upgrade. This means that you can fit a push bar to the door in order to ensure quick and easy exit from your property in the case of an emergency.
Our back doors won't let you down, and neither will we. Pure Trade Windows are the only choice for double glazing in the Christchurch area.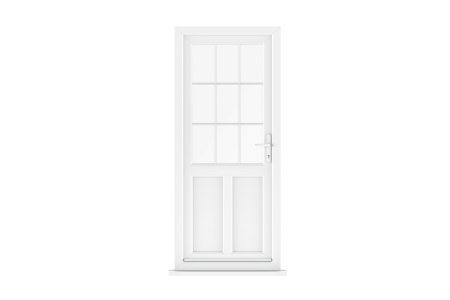 Stable Doors
Stable doors combine a traditional aesthetic with double glazing multi-functionality, and high uPVC performance. This is allowed by a dual sash design, which allows them to operate separately from each other. This means you can do more, and enjoy more, with stable doors.
This dual sash design means that if you choose, you can open the top sash whilst keeping the bottom sash closed. This allows you to enjoy increased airflow and enhanced views whilst maintaining the safety of your little loved ones and pets.
But fear not, this split in the door does not compromise security or performance. We fit high security Yale locks to all of our stable doors, as well as double drip bars, to ensure that you are completely covered across the board.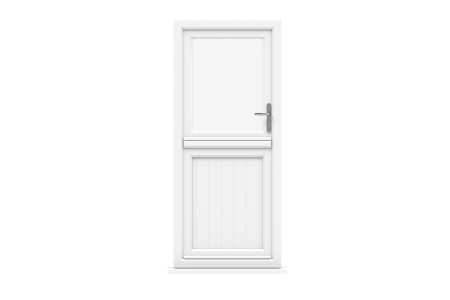 Composite Doors
Composite doors effortlessly combine a range of materials to create a double glazing product that benefits from the best of each. Innately strong, robust and weatherproof, composite have a lot to offer in the performance department.
Although they exude a traditional timber door appearance, they benefit greatly from modern design. Offering outstanding weatherproofing and a coating that won't scratch, rot, warp or discolour, we can guarantee that our composite doors are in it for the long run.
French Doors
French doors, much like their French window cousins, offer a range of unique double glazing benefits. This includes a flying mullion that enables a completely unobstructed opening. Bring a spacious and practical addition to your Christchurch home, both internally or externally.
To ensure your French doors don't open past their desired designated opening circle, we offer optional door restrictors. This eliminates the potential of the doors damaging both themselves and wall behind where they open.
Protection is guaranteed with the combination of a Yale locking system and superior weather tightness.  Ensure protection on all fronts, with Pure Trade Windows.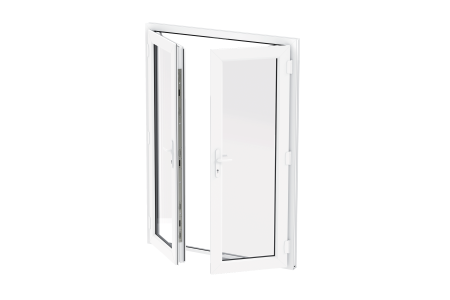 Patio Doors
Patio doors are an effortless way to bring enhanced space, light and functionality to your Christchurch home. Featuring an easy to use sliding mechanism, patio doors don't require swing space. This means that you can maximise the amount of space within the room that they are installed, whilst enjoying everything our high quality double glazing has to offer.
Our Patio Doors also feature a clever wrap-over threshold design. This not only prevents them from becoming a trip hazard, it also reduces scuff marks. We can offer low thresholds and ramp options, to ensure maximum, and safe, accessibility.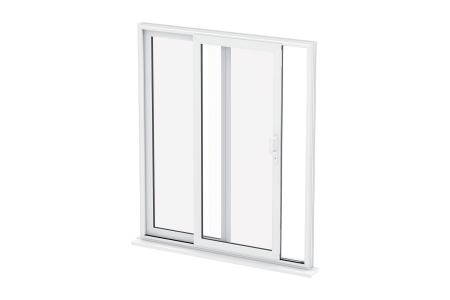 Bi-Fold Doors
Bi-Fold doors offer an incredibly innovative, modern and beautiful double glazing option for any Christchurch property. Their intelligent design means that 90% of the door aperture folds away neatly, and allows for a completely seamless connection between your home and garden.
Although they may seem complex, the gearing of bi-fold doors is elegantly hidden beneath an in-board, mounted stainless steel track. This guarantees a clean, crisp finish, and ensures that the hardware that makes them so fantastic is not unsightly.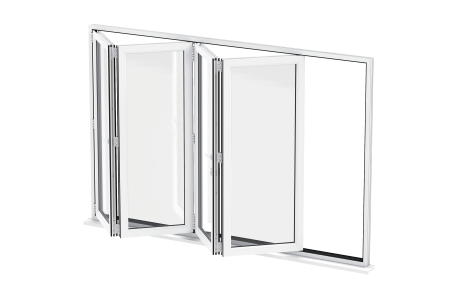 Double Glazing Prices
We know that your time matters, and that is why we make it so easy for you to access our double glazing prices. Don't hesitate to visit us today, and get a free online quote today!
Alternatively, if you feel you need more information, there's no need to worry! You can get in contact with us via our online enquiry form, where a member of our friendly team will always be on hand to help.